Mix-Match Style & Finish for 3 knobs, 1 stem and can be ordered with any Brass rosettes
Sold as complete set. Includes Latch, Strike Plate, and Dust Box
28 Degree Latch is available for an additional charge
For pricing information, contact any EMTEK® dealer
Available Upgrades
Concealed Fastener
28 Degree Latch
Fits any door between 1-3/8" to 2-1/4" thick with a 2-1/8" bore standard door prep*
Standard latch is for 2-3/8" backset. Specify 2-3/4" backset if required
* STRETTO rosette requires a 1-1/4" diameter bore hole and 2-hole door preparation for thumbturn privac
EMTEK SELECT KNOBS
The Emtek Select Knob program offers a new level of customization: choose your textured knob, stem design, and pair with any of our available rosettes options-- in any mix of finishes--for hundreds of unique combinations, made just for you and your home project.
SELECT YOUR KNOB AND STEM STYLE
3 knob designs in 7 finishes
1 stem design in 7 finishes
Pair with 20+ Styles of rosettes in 12+ finishes.
3 KNOB OPTIONS INCLUDE:
White Marble
Straight Knurled
Knurled
Also includes a 28 degree rotation latch and dust box.
WHITE MARBLE
Each real, natural marble Select lever showcases the unique characteristics and veining of this popular and timeless material.
What's Trending
Organic materials and mixed finishes like this are Fire! Curious what else is hot for 2023?
Read our annual Trend Report here:
KBIS 2021 WINNING PRODUCT
Emtek Select Knobs were selected for a Best of KBIS award in 2021!
The Kitchen and Bath Industry Show's most prestigious honor celebrates the most innovative new products of the year.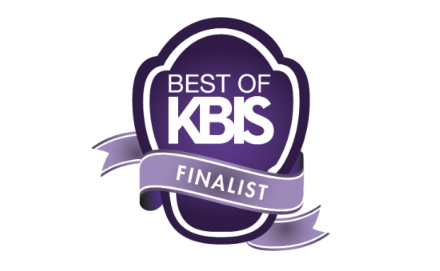 {
  "id": 379222,
  "group": "ProductFamily",
  "obj_type": null,
  "primary_image": {
    "title": "Emtek Select Conical White Marble Knob Satin Brass US4",
    "image": "https://www.emtek.com/media/pim-images/9a2/6dc74d5b74b3a82b2d.jpg",
    "asset_type": "Image-Primary"
  },
  "finish_images": null,
  "option": "Conical White Marble Knobset",
  "pim_id": 433774,
  "code": null,
  "is_public": true,
  "order": 2689,
  "override_image": null,
  "themes": [
    1
  ],
  "product_attribute_id": 476,
  "title": "Select Conical White Marble",
  "images": [
    {
      "title": "Emtek Select Icon lockup",
      "image": "https://www.emtek.com/media/pim-images/fab/6b302b8c624defcee4.jpg",
      "asset_type": "Icon-Merchandising"
    },
    {
      "title": "Emtek Select Conical White Marble Knob Satin Brass US4",
      "image": "https://www.emtek.com/media/pim-images/9a2/6dc74d5b74b3a82b2d.jpg",
      "asset_type": "Image-Primary"
    }
  ],
  "description": "<li>Mix-Match Style & Finish for 3 knobs, 1 stem and can be ordered with any Brass rosettes</li>\n<li>Sold as complete set. Includes Latch, Strike Plate, and Dust Box</li>\n<li>28 Degree Latch is available for an additional charge  </li>\n<li>For pricing information, contact any EMTEK® dealer</li>",
  "technical_specs": "<li>Fits any door between 1-3/8" to 2-1/4\" thick with a 2-1/8\" bore standard door prep*</li>\n<li>Standard latch is for 2-3/8\" backset. Specify 2-3/4\" backset if required</li>\n\n* STRETTO rosette requires a 1-1/4" diameter bore hole and 2-hole door preparation for thumbturn privac",
  "installation_instructions": [
    {
      "title": "Emtek Passage, Privacy, Pair Dummy and Single Sided Dummy - STRETTO 1.5x5 Knob/Lever Installation Guide",
      "file": "https://www.emtek.com/media/documents/pim-documents/c57/00f7dc2914a7a00d9e.pdf",
      "asset_type": "Document-InstallationInstructions"
    },
    {
      "title": "Emtek STRETTO 1.5x5 Passage Installation Guide",
      "file": "https://www.emtek.com/media/documents/pim-documents/6eb/cc1e45223fd2abbe0a.pdf",
      "asset_type": "Document-InstallationInstructions"
    },
    {
      "title": "Emtek STRETTO 1.5x5 Privacy Installation Guide",
      "file": "https://www.emtek.com/media/documents/pim-documents/43f/0162a4376a9840a547.pdf",
      "asset_type": "Document-InstallationInstructions"
    },
    {
      "title": "Emtek Passage, Privacy, Dummy - Knob/Lever Installation Guide",
      "file": "https://www.emtek.com/media/documents/pim-documents/abd/b79f1763393de1ca01.pdf",
      "asset_type": "Document-InstallationInstructions"
    },
    {
      "title": "Emtek Passage, Privacy, Dummy - Wilshire Sideplate for Knob/Lever Installation Guide",
      "file": "https://www.emtek.com/media/documents/pim-documents/1f3/b0d109a76a841a5591.pdf",
      "asset_type": "Document-InstallationInstructions"
    },
    {
      "title": "Emtek CF Mechanism 2.0 Passage & Privacy - Knob/Lever Installation Guide",
      "file": "https://www.emtek.com/media/documents/pim-documents/21b/53e9c1d98d33d314ab.pdf",
      "asset_type": "Document-InstallationInstructions"
    },
    {
      "title": "Dust Box for Strike Plate",
      "file": "https://www.emtek.com/media/documents/pim-documents/467/0a0746b2722dde61c4.pdf",
      "asset_type": "Document-InstallationInstructions"
    },
    {
      "title": "Emtek Wilshire Non-Keyed Decorative Plates, Knob/Lever Installation Guide ",
      "file": "https://www.emtek.com/media/documents/pim-documents/a74/c367aab8ecd50a9a18.pdf",
      "asset_type": "Document-InstallationInstructions"
    }
  ],
  "templates": [
    {
      "title": "Emtek Passage, Privacy, Dummy - STRETTO 1.5x5 Door Preparation (Left & Right Handing)",
      "file": "https://www.emtek.com/media/documents/pim-documents/5d1/b3c063f7208125e095.pdf",
      "asset_type": "Document-Template"
    },
    {
      "title": "Emtek STRETTO 1.5X5 DOOR PREPARATION PASSAGE (LEFT HAND)",
      "file": "https://www.emtek.com/media/documents/pim-documents/e63/b042a0a1c5b159063c.pdf",
      "asset_type": "Document-Template"
    },
    {
      "title": "Emtek STRETTO 1.5X5 DOOR PREPARATION DUMMY (Right  HAND)",
      "file": "https://www.emtek.com/media/documents/pim-documents/abf/e1123a0e74d39365b3.pdf",
      "asset_type": "Document-Template"
    },
    {
      "title": "Emtek STRETTO 1.5X5 DOOR PREPARATION PRIVACY (RIGHT HAND)",
      "file": "https://www.emtek.com/media/documents/pim-documents/8fc/0e5c674b94f24ee856.pdf",
      "asset_type": "Document-Template"
    },
    {
      "title": "Emtek STRETTO 1.5X5 DOOR PREPARATION PASSAGE (RIGHT HAND)",
      "file": "https://www.emtek.com/media/documents/pim-documents/d9b/85ba88c9ff10b75927.pdf",
      "asset_type": "Document-Template"
    },
    {
      "title": "Emtek STRETTO 1.5X5 DOOR PREPARATION PRIVACY (LEFT HAND)",
      "file": "https://www.emtek.com/media/documents/pim-documents/55c/cdb33ffd1f0658c4bd.pdf",
      "asset_type": "Document-Template"
    }
  ],
  "specifications": [
    {
      "title": "Emtek STRETTO 1.5x5 Dimensions-Door Thickness Specifications",
      "file": "https://www.emtek.com/media/documents/pim-documents/c32/2e881c8b9345e034c3.pdf",
      "asset_type": "Document-Specifications"
    },
    {
      "title": "Emtek Passage & Privacy Knobsets and Leversets Dimensions/Door Thickness Specifications",
      "file": "https://www.emtek.com/media/documents/pim-documents/1a2/d346ec61d3d8271391.pdf",
      "asset_type": "Document-Specifications"
    },
    {
      "title": "Emtek Rosette Specifications",
      "file": "https://www.emtek.com/media/documents/pim-documents/090/2fe70a6d2b0182c480.pdf",
      "asset_type": "Document-Specifications"
    },
    {
      "title": "Emtek Strike Plates for Keyed Passage & Privacy Specifications",
      "file": "https://www.emtek.com/media/documents/pim-documents/9cb/2da97618042769a469.pdf",
      "asset_type": "Document-Specifications"
    }
  ],
  "merchandising_tag": null,
  "icons": [
    {
      "title": "Emtek Select Icon lockup",
      "image": "https://www.emtek.com/media/pim-images/fab/6b302b8c624defcee4.jpg",
      "asset_type": "Icon-Merchandising"
    }
  ],
  "functions": [
    {
      "id": 371413,
      "option": "Privacy",
      "obj_type": null,
      "group": "Function",
      "pim_id": 426148,
      "code": null,
      "finish_images": null,
      "primary_image": {
        "title": "Privacy Function",
        "image": "https://www.emtek.com/media/original_images/Privacy_v3.jpg"
      },
      "function_modal": {
        "title": "Privacy",
        "image": {
          "url": "https://www.emtek.com/media/original_images/Privacy_v3.jpg"
        },
        "description": "<ul><li data-block-key=\"hzi51\">An handle set with a locking mechanism</li><li data-block-key=\"a5qm8\">Usually in the form of a small push pin lock on the side of the knob or lever</li><li data-block-key=\"2pagm\">To be used with interior locksets only</li></ul><p data-block-key=\"bl6mc\"></p>"
      }
    },
    {
      "id": 371412,
      "option": "Passage",
      "obj_type": null,
      "group": "Function",
      "pim_id": 426147,
      "code": null,
      "finish_images": null,
      "primary_image": {
        "title": "Passage Function",
        "image": "https://www.emtek.com/media/original_images/Passage_v3.jpg"
      },
      "function_modal": {
        "title": "Passage",
        "image": {
          "url": "https://www.emtek.com/media/original_images/Passage_v3.jpg"
        },
        "description": "<ul><li data-block-key=\"utbfj\">A handle set without an internal locking mechanism</li><li data-block-key=\"1oqi5\">To be paired with a deadbolt for an exterior door, or on an interior door that doesn&#x27;t require privacy<ul><li data-block-key=\"ak3uk\">For example: a walk-in linen closet, kid&#x27;s room, etc</li></ul></li></ul><p data-block-key=\"7sg28\"></p>"
      }
    },
    {
      "id": 371299,
      "option": "Dummy",
      "obj_type": null,
      "group": "Function",
      "pim_id": 426146,
      "code": null,
      "finish_images": null,
      "primary_image": {
        "title": "Lever Knob Dummy",
        "image": "https://www.emtek.com/media/original_images/Dummy_v3_R63ifZ7.jpg"
      },
      "function_modal": {
        "title": "Dummy",
        "image": {
          "url": "https://www.emtek.com/media/original_images/Dummy_v3_R63ifZ7.jpg"
        },
        "description": "<ul><li data-block-key=\"c6gwo\">Dummy sets have no latch and require no bore hole</li><li data-block-key=\"ch29q\">Surface mounted to the door</li><li data-block-key=\"92k3u\">Often used in conjunction with a passage or privacy set for double or french doors<ul><li data-block-key=\"5jenq\">Acts as a jamb, with a strikeplate for the other door&#x27;s latch to fit into</li></ul></li></ul>"
      }
    }
  ],
  "upgrades": [
    {
      "id": 380939,
      "option": "Concealed Fastener",
      "obj_type": {
        "id": 5,
        "name": "Fastener Upgrade",
        "display_name": "Fastener Upgrade"
      },
      "group": "Option",
      "pim_id": 668013,
      "code": null,
      "finish_images": null,
      "primary_image": null
    },
    {
      "id": 371452,
      "option": "28 Degree Latch",
      "obj_type": {
        "id": 8,
        "name": "Latch Upgrade",
        "display_name": "Latch Upgrade"
      },
      "group": "Option",
      "pim_id": 665413,
      "code": null,
      "finish_images": null,
      "primary_image": null
    }
  ],
  "warnings": [
    {
      "id": 371338,
      "option": "Proposition 65",
      "obj_type": null,
      "group": "Warning",
      "pim_id": 68211,
      "code": null,
      "finish_images": null,
      "primary_image": null
    }
  ],
  "finish_ids": [
    371254,
    371256,
    371257,
    371258,
    371253,
    371252,
    371255
  ],
  "configurator": [
    {
      "display_name": "Finishes",
      "user_interface": "grid",
      "options": [
        {
          "id": 371254,
          "option": "Satin Nickel",
          "obj_type": null,
          "group": "Finish",
          "pim_id": 296,
          "code": "US15",
          "finish_images": null,
          "primary_image": {
            "title": "US15 Finish",
            "image": "https://www.emtek.com/media/pim-images/145/0d81f5c72af8aa15c2.jpg",
            "asset_type": "Image-EmtekFinish"
          },
          "attribute": {
            "id": 443,
            "name": "Finishes",
            "singular_name": "Finish",
            "pim_id": 1066
          }
        },
        {
          "id": 371256,
          "option": "Polished Chrome",
          "obj_type": null,
          "group": "Finish",
          "pim_id": 300,
          "code": "US26",
          "finish_images": null,
          "primary_image": {
            "title": "US26 Finish",
            "image": "https://www.emtek.com/media/pim-images/34f/5e300fb426bc5d9513.jpg",
            "asset_type": "Image-EmtekFinish"
          },
          "attribute": {
            "id": 443,
            "name": "Finishes",
            "singular_name": "Finish",
            "pim_id": 1066
          }
        },
        {
          "id": 371257,
          "option": "Satin Brass",
          "obj_type": null,
          "group": "Finish",
          "pim_id": 305,
          "code": "US4",
          "finish_images": null,
          "primary_image": {
            "title": "US4 Finish",
            "image": "https://www.emtek.com/media/pim-images/3f4/bb766cc7c9ee7e1491.jpg",
            "asset_type": "Image-EmtekFinish"
          },
          "attribute": {
            "id": 443,
            "name": "Finishes",
            "singular_name": "Finish",
            "pim_id": 1066
          }
        },
        {
          "id": 371258,
          "option": "Oil Rubbed Bronze",
          "obj_type": null,
          "group": "Finish",
          "pim_id": 313,
          "code": "US10B",
          "finish_images": null,
          "primary_image": {
            "title": "US10B Finish",
            "image": "https://www.emtek.com/media/pim-images/4df/4dbb8c7aee0fde274b.jpg",
            "asset_type": "Image-EmtekFinish"
          },
          "attribute": {
            "id": 443,
            "name": "Finishes",
            "singular_name": "Finish",
            "pim_id": 1066
          }
        },
        {
          "id": 371253,
          "option": "Polished Nickel - Lifetime",
          "obj_type": null,
          "group": "Finish",
          "pim_id": 257465,
          "code": "US14",
          "finish_images": null,
          "primary_image": {
            "title": "US14 LT Finish",
            "image": "https://www.emtek.com/media/pim-images/479/4b56aa06d4694d7f5b.jpg",
            "asset_type": "Image-EmtekFinish"
          },
          "attribute": {
            "id": 443,
            "name": "Finishes",
            "singular_name": "Finish",
            "pim_id": 1066
          }
        },
        {
          "id": 371252,
          "option": "Unlacquered Brass",
          "obj_type": null,
          "group": "Finish",
          "pim_id": 248671,
          "code": "US3NL",
          "finish_images": null,
          "primary_image": {
            "title": "US3NL Finish",
            "image": "https://www.emtek.com/media/pim-images/5fe/44acb4f151f26026c2.jpg",
            "asset_type": "Image-EmtekFinish"
          },
          "attribute": {
            "id": 443,
            "name": "Finishes",
            "singular_name": "Finish",
            "pim_id": 1066
          }
        },
        {
          "id": 371255,
          "option": "Flat Black",
          "obj_type": null,
          "group": "Finish",
          "pim_id": 299,
          "code": "US19",
          "finish_images": null,
          "primary_image": {
            "title": "US19 Finish",
            "image": "https://www.emtek.com/media/pim-images/b27/ca015ef3678f1f5c46.jpg",
            "asset_type": "Image-EmtekFinish"
          },
          "attribute": {
            "id": 443,
            "name": "Finishes",
            "singular_name": "Finish",
            "pim_id": 1066
          }
        }
      ]
    },
    {
      "display_name": "Rosettes",
      "user_interface": "grid",
      "options": [
        {
          "id": 371419,
          "option": "Disk Rosette",
          "obj_type": {
            "id": 19,
            "name": "Rose",
            "display_name": "Rose"
          },
          "group": "Trim",
          "pim_id": 398511,
          "code": null,
          "finish_images": {
            "371252": "https://www.emtek.com/media/pim-images/08d/aa9e8110d878ba0d6d.jpg",
            "371253": "https://www.emtek.com/media/pim-images/969/15a5ac0e915e85eeb9.jpg",
            "371254": "https://www.emtek.com/media/pim-images/8fc/f493d3df99ced3021c.jpg",
            "371255": "https://www.emtek.com/media/pim-images/d98/f98f7b6dc5aa9cff11.jpg",
            "371256": "https://www.emtek.com/media/pim-images/fec/18ff244aad8d035744.jpg",
            "371257": "https://www.emtek.com/media/pim-images/ec7/c6be680bc9fab9e97c.jpg",
            "371258": "https://www.emtek.com/media/pim-images/8ec/ef34518b72ece2f614.jpg",
            "371353": "https://www.emtek.com/media/pim-images/48c/8122a532be62ccb9b9.jpg",
            "371355": "https://www.emtek.com/media/pim-images/30f/39c4cc305f24ba29fa.jpg",
            "371487": "https://www.emtek.com/media/pim-images/983/ac98dd1562891f8e6d.jpg",
            "371488": "https://www.emtek.com/media/pim-images/a74/fb98c5a0b8d26f233f.jpg"
          },
          "primary_image": {
            "title": "Emtek Disk Rosette Satin Nickel US15",
            "image": "https://www.emtek.com/media/pim-images/8fc/f493d3df99ced3021c.jpg",
            "asset_type": "Image-Primary"
          },
          "attribute": {
            "id": 453,
            "name": "Rosettes",
            "singular_name": "Rosette",
            "pim_id": 1196
          }
        },
        {
          "id": 371421,
          "option": "Square Rosette",
          "obj_type": {
            "id": 19,
            "name": "Rose",
            "display_name": "Rose"
          },
          "group": "Trim",
          "pim_id": 398516,
          "code": null,
          "finish_images": {
            "371252": "https://www.emtek.com/media/pim-images/7bb/539108f9eb86c70f31.jpg",
            "371253": "https://www.emtek.com/media/pim-images/5d0/1340f8561bf100cb54.jpg",
            "371254": "https://www.emtek.com/media/pim-images/232/2225278f43273094cd.jpg",
            "371255": "https://www.emtek.com/media/pim-images/149/176d760c2b4ca624c2.jpg",
            "371256": "https://www.emtek.com/media/pim-images/b3f/de6a1c22e7c6a3431a.jpg",
            "371257": "https://www.emtek.com/media/pim-images/143/de06d188fd0d07eac3.jpg",
            "371258": "https://www.emtek.com/media/pim-images/f9b/4e2f5f32dce80faa11.jpg",
            "371353": "https://www.emtek.com/media/pim-images/185/a923905748f61c91b4.jpg",
            "371355": "https://www.emtek.com/media/pim-images/755/1ceedd3bf1f0cfe03d.jpg",
            "371487": "https://www.emtek.com/media/pim-images/7db/648d17a5af871f285d.jpg",
            "371488": "https://www.emtek.com/media/pim-images/7e6/e9ab93a2dfa9295605.jpg"
          },
          "primary_image": {
            "title": "Emtek Square Rosette Satin Brass US4",
            "image": "https://www.emtek.com/media/pim-images/143/de06d188fd0d07eac3.jpg",
            "asset_type": "Image-Primary"
          },
          "attribute": {
            "id": 453,
            "name": "Rosettes",
            "singular_name": "Rosette",
            "pim_id": 1196
          }
        },
        {
          "id": 371434,
          "option": "Wilshire Rosette",
          "obj_type": {
            "id": 19,
            "name": "Rose",
            "display_name": "Rose"
          },
          "group": "Trim",
          "pim_id": 397713,
          "code": null,
          "finish_images": {
            "371252": "https://www.emtek.com/media/pim-images/847/66fba25067afe9d8f3.jpg",
            "371253": "https://www.emtek.com/media/pim-images/720/0e7d6430b41d34ce6b.jpg",
            "371254": "https://www.emtek.com/media/pim-images/1a1/11654eb0a41cefe93b.jpg",
            "371255": "https://www.emtek.com/media/pim-images/083/6fb2d369ea5d2fe32f.jpg",
            "371256": "https://www.emtek.com/media/pim-images/ac4/2011df68ea08fb86fb.jpg",
            "371257": "https://www.emtek.com/media/pim-images/b77/0743e71f176ae33243.jpg",
            "371258": "https://www.emtek.com/media/pim-images/926/fdc63d209f06f89eec.jpg",
            "371353": "https://www.emtek.com/media/pim-images/cb5/7eeebfc64225a0a496.jpg",
            "371354": "https://www.emtek.com/media/pim-images/57a/390ff59522a8703355.jpg",
            "371355": "https://www.emtek.com/media/pim-images/4e9/4fa8df5499d5f11ac9.jpg"
          },
          "primary_image": {
            "title": "Emtek Wilshire Rosette Polished Nickel US14",
            "image": "https://www.emtek.com/media/pim-images/720/0e7d6430b41d34ce6b.jpg",
            "asset_type": "Image-Alternate"
          },
          "attribute": {
            "id": 453,
            "name": "Rosettes",
            "singular_name": "Rosette",
            "pim_id": 1196
          }
        },
        {
          "id": 371443,
          "option": "Quincy Rosette",
          "obj_type": {
            "id": 19,
            "name": "Rose",
            "display_name": "Rose"
          },
          "group": "Trim",
          "pim_id": 397712,
          "code": null,
          "finish_images": {
            "371252": "https://www.emtek.com/media/pim-images/ae9/cb30894e4bbff8154d.jpg",
            "371253": "https://www.emtek.com/media/pim-images/7ed/4c5aff6f1c735240a4.jpg",
            "371254": "https://www.emtek.com/media/pim-images/a6f/d9d19aaf66d386aa6e.jpg",
            "371255": "https://www.emtek.com/media/pim-images/aa4/8b7f57fcb022617bf6.jpg",
            "371256": "https://www.emtek.com/media/pim-images/df9/47ba1bb4202e5d30ea.jpg",
            "371257": "https://www.emtek.com/media/pim-images/da4/a4cf4a38df890f98f1.jpg",
            "371258": "https://www.emtek.com/media/pim-images/66e/c2dcbb7449ff6c9cb3.jpg",
            "371352": "https://www.emtek.com/media/pim-images/3d5/471e61ff3c11b4af04.jpg",
            "371353": "https://www.emtek.com/media/pim-images/37e/6a3acd7f6693c68bdd.jpg",
            "371355": "https://www.emtek.com/media/pim-images/ae4/1015297d3f19ef07f8.jpg",
            "371487": "https://www.emtek.com/media/pim-images/ba2/77b1e88de5213f9da2.jpg",
            "371488": "https://www.emtek.com/media/pim-images/981/77310ed97f4f46d27d.jpg"
          },
          "primary_image": {
            "title": "Emtek Quincy Rosette Flat Black US19",
            "image": "https://www.emtek.com/media/pim-images/aa4/8b7f57fcb022617bf6.jpg",
            "asset_type": "Image-Alternate"
          },
          "attribute": {
            "id": 453,
            "name": "Rosettes",
            "singular_name": "Rosette",
            "pim_id": 1196
          }
        },
        {
          "id": 371420,
          "option": "Modern Rectangular Rosette",
          "obj_type": {
            "id": 19,
            "name": "Rose",
            "display_name": "Rose"
          },
          "group": "Trim",
          "pim_id": 398512,
          "code": null,
          "finish_images": {
            "371252": "https://www.emtek.com/media/pim-images/048/f8a105b3c2663f242f.jpg",
            "371253": "https://www.emtek.com/media/pim-images/e5a/4e8d2049fe8ab75dd7.jpg",
            "371254": "https://www.emtek.com/media/pim-images/fbc/3d47146fa4a3873e43.jpg",
            "371255": "https://www.emtek.com/media/pim-images/c8d/08514b1564a5914e0d.jpg",
            "371256": "https://www.emtek.com/media/pim-images/dc4/227587ae80ad8b4d6f.jpg",
            "371257": "https://www.emtek.com/media/pim-images/b44/91e1db99a7bcd96117.jpg",
            "371258": "https://www.emtek.com/media/pim-images/9b8/a2c5a3626918129681.jpg"
          },
          "primary_image": {
            "title": "Emtek Modern Rectangular Rosette Polished Nickel US14",
            "image": "https://www.emtek.com/media/pim-images/e5a/4e8d2049fe8ab75dd7.jpg",
            "asset_type": "Image-Primary"
          },
          "attribute": {
            "id": 453,
            "name": "Rosettes",
            "singular_name": "Rosette",
            "pim_id": 1196
          }
        },
        {
          "id": 371440,
          "option": "Urban Modern Rosette",
          "obj_type": {
            "id": 19,
            "name": "Rose",
            "display_name": "Rose"
          },
          "group": "Trim",
          "pim_id": 398517,
          "code": null,
          "finish_images": {
            "371252": "https://www.emtek.com/media/pim-images/110/08ea4ff95e1528bf91.jpg",
            "371253": "https://www.emtek.com/media/pim-images/6a1/861c5b3ee2e994f37e.jpg",
            "371254": "https://www.emtek.com/media/pim-images/7bf/912ad0ef83785a8bb7.jpg",
            "371255": "https://www.emtek.com/media/pim-images/b5c/b1470b27305943f484.jpg",
            "371256": "https://www.emtek.com/media/pim-images/cf3/5c93002a1f9b770baa.jpg",
            "371257": "https://www.emtek.com/media/pim-images/030/6fcf9a3bcdd073ad1e.jpg",
            "371258": "https://www.emtek.com/media/pim-images/9fc/d9ace666cc7230efbd.jpg",
            "371353": "https://www.emtek.com/media/pim-images/ee6/0136565230f14098d1.jpg",
            "371355": "https://www.emtek.com/media/pim-images/5ac/0a89bd888f4e287994.jpg",
            "371487": "https://www.emtek.com/media/pim-images/201/f10d1e9292f9adfa19.jpg",
            "371488": "https://www.emtek.com/media/pim-images/34d/cbe893fae75fd48dc8.jpg"
          },
          "primary_image": {
            "title": "Emtek Urban Modern Rosette Satin Brass US4",
            "image": "https://www.emtek.com/media/pim-images/030/6fcf9a3bcdd073ad1e.jpg",
            "asset_type": "Image-Primary"
          },
          "attribute": {
            "id": 453,
            "name": "Rosettes",
            "singular_name": "Rosette",
            "pim_id": 1196
          }
        }
      ]
    },
    {
      "display_name": "Functions",
      "user_interface": null,
      "options": [
        {
          "id": 371413,
          "option": "Privacy",
          "obj_type": null,
          "group": "Function",
          "pim_id": 426148,
          "code": null,
          "finish_images": null,
          "primary_image": {
            "title": "Privacy Function",
            "image": "https://www.emtek.com/media/original_images/Privacy_v3.jpg"
          },
          "attribute": {
            "id": 445,
            "name": "Functions",
            "singular_name": "Function",
            "pim_id": 1029
          }
        },
        {
          "id": 371412,
          "option": "Passage",
          "obj_type": null,
          "group": "Function",
          "pim_id": 426147,
          "code": null,
          "finish_images": null,
          "primary_image": {
            "title": "Passage Function",
            "image": "https://www.emtek.com/media/original_images/Passage_v3.jpg"
          },
          "attribute": {
            "id": 445,
            "name": "Functions",
            "singular_name": "Function",
            "pim_id": 1029
          }
        },
        {
          "id": 371299,
          "option": "Dummy",
          "obj_type": null,
          "group": "Function",
          "pim_id": 426146,
          "code": null,
          "finish_images": null,
          "primary_image": {
            "title": "Lever Knob Dummy",
            "image": "https://www.emtek.com/media/original_images/Dummy_v3_R63ifZ7.jpg"
          },
          "attribute": {
            "id": 445,
            "name": "Functions",
            "singular_name": "Function",
            "pim_id": 1029
          }
        }
      ]
    }
  ]
}